One Moto Show, Portland, 2018
Text + Photos: Mike Blanchard
Feature | Over the last 10 years or so a crop of new-wave motorcycle shows has risen to prominence around the country and worldwide. The Handbuilt show, Born Free, Mamma Tried, Wheels and Waves and the One Moto Show, to name but a few, are redefining the old concours format to showcase the humble garage builder as well as the high-end art and concept machines, and for good measure adds racing, art, music and curated vendors to the mix.
Billing itself as a "cultural gathering," One Moto is nine years in and has developed into one of the shows to make it to. Held this year in an old pickle factory in north Portland, Oregon, One Moto has grown from a grassroots thing put on by a bunch of friends to a big thing put on by a bunch of friends. It has been sponsored since the beginning by See See Motorcycles and for the last few years by Harley Davidson.
The main ramrod is Thor Drake, co-owner at See See; he came up with the concept for the show when interning at an ad agency while doing his post-grad degree. He seemed to be everywhere, moving bikes, doing interviews, setting up for the different events, donning leathers and getting out on track and then helping get the racers on and off the track. It is that level of attention that makes for a good, happy show.
Drake is a freak for motorcycles and loves building and racing, whatever the bike or mode of competition.
"We started picking up bikes for free and on the cheap. We quickly began to notice that there was a growing number of people who loved this subculture of motorcycling," he said. "This was when we decided to host the first gathering of what we would deem The One Motorcycle Show. The idea that a bike meant more to someone through experiences and stories. The notion that a motorcycle was built, restored, constructed, invented, or modified for particular reasons, using the means at their disposal."
Rumor is that Drake is bowing out after next year and handing the torch on to someone else. You can't blame him; this type of event can be an all-consuming thing, especially as it has grown every year. The quality of the One Moto Show is a real testament to his hard work and taste.
It is hard to categorize what you are looking at, and that is the whole point. It is an inclusive scene. It is not really a chopper show, but there are choppers; there are rare vintage bikes, cafe racers, custom bikes, concept bikes, many off them hand-built works of art; and there are motos just as crusty as the barn they rolled out of. Builders from all over the world mixed it up with young local folks who built bikes specifically for this show and greybeards who have been doing it since forever.
The building is a big part of it as well. The Pickle Factory is a big two-story, open affair with large windows on the second floor that flooded the bikes with light. There were also intimate cave-like rooms that were stuffed with motorcycles, or perhaps a small bar and some couches.
A select group of vendors from super-slick International brands to funky local artisans were hawking wares. One Moto features an impressive selection of artists showing moto-related art that was juxtaposed against the bikes. It added a really nice touch. After all, many of these bikes are works of art in their own right.
There was a roundtable discussion on building bikes, sponsored by Euro accessories maker Rizoma, that featured builders Alex Earle, Mark Atkinson, Rick Broadsmith and Hugo Eckles, moderated by Miguel Galluzi (designer of the Ducati Monster and MH900e and now with Moto Guzzi). It was a great opportunity to get a peek into the process and thoughts of talented folks, sitting right in front of you, all very personable and happy to talk and share.
Social media and the ease of sharing images has created a community of people who are familiar with each others' bikes, art, photography and products even though they may live on the other side of the world.
Where in years past moto shows were national or local affairs, now there is an informed audience meeting builders and enthusiasts from around the world. And they are hungry for it.
One Moto is a well-attended show, and the line to get in stretched around the block. There are a lot of people interested in motorcycles. This is the kind of show that you could hang out at all day and meet a bunch of amazing people. We showed up to find friends from California front and center, but we met people and made new friends from all over.
There are folks following the show circuit. A number of people were going from One Moto to Mamma Tried in Milwaukee and on to Wheels and Waves or Handbuilt.
One Moto opened Friday night and went through Sunday. In addition, Saturday night there was the One Pro flat-track race at the fairgrounds in Salem (the state capital) about 45 minutes south of Portland. The track is not strictly speaking a flat track. The two main turns are fairly banked, which helped keep racers who were not quite so experienced on the track and in the game. It is billed as the fastest indoor track in the country.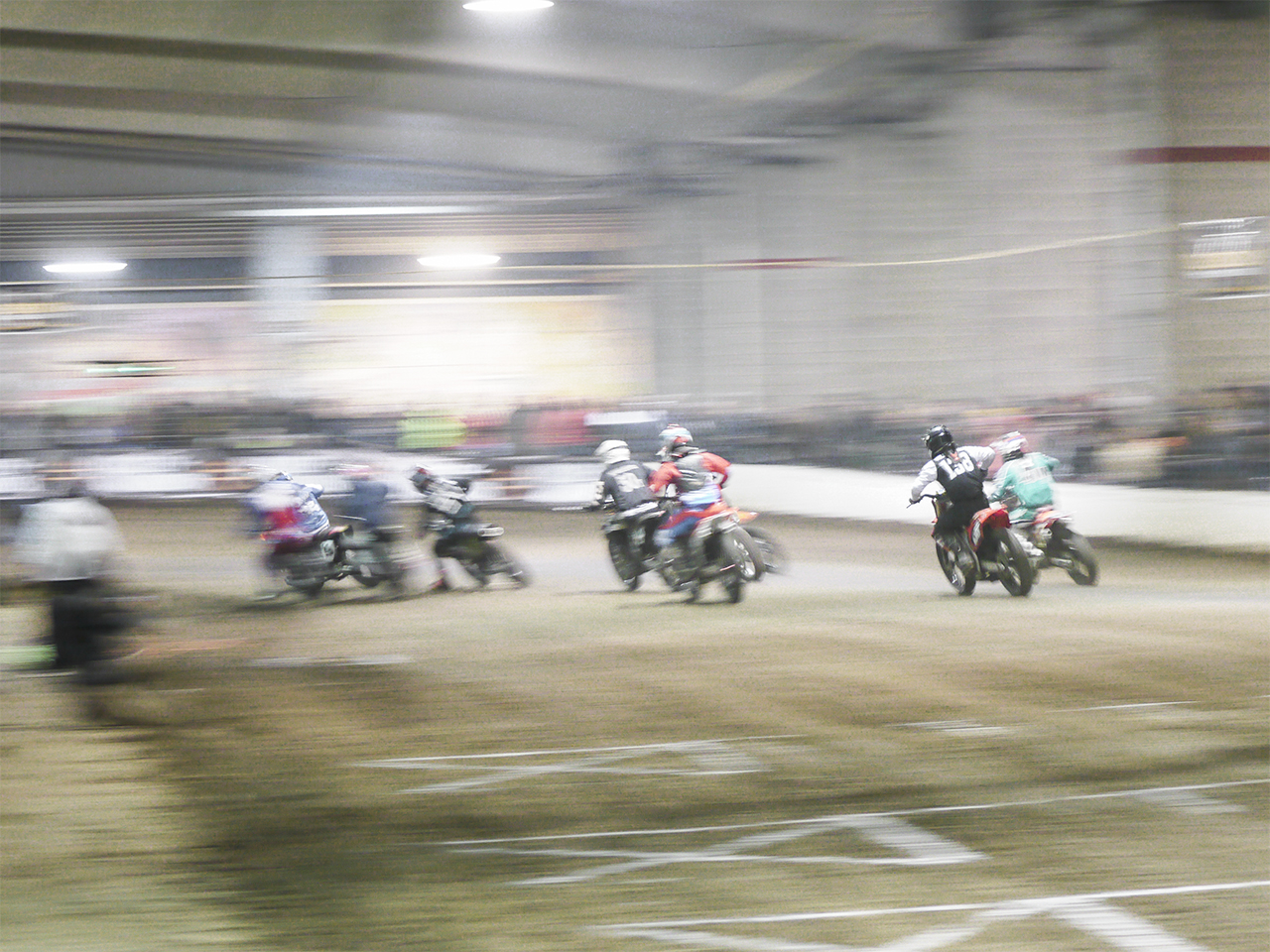 A number of folks who were showing bikes also raced, including Drake and several of the folks from See See, and it was on. Builder Roger Goldammer managed to break an ankle out on the track. Mirroring the tone of the whole weekend, the races were well-organized but relaxed and fun. There were classes from pro riders on down to experts, amateurs, oldsters and youngsters of all levels. There were families with mom, dad, brother and sister all racing.
Like the show, the bikes at the races were really eclectic (and just as good a show as the show formal) with everything from a full-on team of new Indian Scout trackers to pro-450s and on down through all manner of vintage trackers (blaring Triumphs, SR500s, RD Yamahas and Harley Sportster-based sleds) to a run-what-ya-brung race full of pit bikes and Trail 90s.
Adding the component of racing to the show reminds you that these machines are made to be used, not just polished and pushed out of cold storage to be shown on the grass. No matter how wondrous, if it won't go down the road it ain't all that.
You leave a show like One Moto knowing that there were some really cool things that you missed or overlooked, but you saw so much and met so many people that you can't feel bad about it. And there is always next year, as the bard says. So you have been warned: Get working on that bike and find yourself a set of leathers and a steel shoe. You have a year to get ready.
What is the engine?
The engine is a '98 DR650, which apparently had been underwater before we bought it, and all the internal bearings rusted. My wife acquired it when we moved to the Bay Area, and added about 10k miles to it before it started to make really horrific noises. I took it apart and rebuilt it. I took too long; she didn't really like dual-sports anyway, and she got a Versys 650. Interesting trivia: The DR belonged to Wade Boyd's wife/sidecar monkey, Christina. Wade is a local racing legend: He dirt-tracks an R1 (not a typo) and road races sidecars @ IoM and Phillips Island in Oz.
Where did you get the idea?
I can trace the idea directly to seeing a photo of the Norman Hossack #3 bike - the one with the Honda single motor. That was probably around '83~'85. The photo was on the bulletin board of my local independent MC shop. I remember thinking, "This changes everything we know about suspensions!" About the same time, I discovered the works of Tony Foale. Later, John Britten became my personal hero.
As a side note, my day job is art direction, graphic design and Illustration, with a bit of photography. I think I mentioned that I was the art director for CityBike for five years. I'm pretty sure I didn't mention this: I illustrated the RaceTech Motorcycle Suspension Bible. Part of that job included attending Paul Thede's week-long suspension tuning seminar as background for the illustration work on the book.
So ... I'm a long-time suspension nerd.
Basically, this bike is a tribute to all the visionaries who have inspired me.
Where did he make it?
In my home shop. I have been acquiring tools for the last 40 years. I learned to weld at age 20 from a Montgomery County, Maryland, Adult Vocational Ed class, and have been building stuff ever since. I bought crappy mainland China machine tools (a 7x14 mini lathe & round-column mill drill) and bought books to teach myself the basics of operating those essential tools. Color me a proud autodidact. I sold the junky stuff when I moved out to California and bought a *real* lathe and mill — a 16x40 lathe and Bridgeport clone.
The thing about building things is that the more stuff you build, the better you get at it. The construction of the DBC bike was, with a few exceptions, surprisingly easy.
What chunks did you use?
If that's a question about materials, the chassis is all new mild steel rectangular and round tube, and solid round sourced from a vendor mostly specialized in decorative ironwork gates, fences and grilles. Steel is cheap: There's only about $150 in receipts for materials, and that was enough to build almost two full bikes! (Steel comes in 20-foot lengths called a "stick". As in, "I'd like a stick of 3-inch round 14 gauge"... which is what the frame is made of.)
If that's a question about what parts I used, there are a lot of different bits and pieces in the bike. Clearly, the motor, wheels/brakes, controls and electrical are all from the donor DR650. The rear brake master is from a Ducati ST2. The rear brake hose is actually the front brake hose from a CRF450. The pedals are off a BMX bike. (interesting tidbit: Bicycle pedals have a right-hand thread on the right pedal, and a left-hand thread on the left pedal. … I had to buy a special tap to make those footpegs work!) The shift lever has been kicking around my shop for maybe 30 years; I just saw it at a swap meet and thought it was real cool. The headlights are BMW fog lamps, also from a swap meet. The seat and handgrips are Triumph parts, and were purchased new from Rabers in San Jose. The shocks are R6 parts donated from Julian Farnam, fellow DBC and 1Moto dood.
Now comes the weird stuff: The vacuum fuel pump is a Mikuni, and designed for snowmobiles & PWC (personal water craft), and they're dead cheap: $34 on Amazon. Everything that pivots in one axis (swingarm, A-arms) has bronze bushings which ride on hardened steel shoulder bolts. Things that pivot in two dimensions (pointy ends of the A-arms, the steering linkages) get ball joints. These components (and the LH tap for the BMX pedals) were ordered from McMaster Carr. I think the hardware bill was also about $150.
What are the details?
It was started for the 2014 DirtBag Challenge. I got the entire rolling chassis finished in the build window, but couldn't get the wiring and plumbing together to make the event. Almost no additional money was spent for the 2015 DBC, but the time was put to good use.
This was my second attempt at building a DBC bike.
I actually wanted to paint it, but got sick of putting the motor into the frame and taking the motor out of the frame … even had a color picked out … it's a Scion color, almost a dark battleship gray, but with a green tint.
It rides and handles way better than expected, although the rear shock isn't tuned correctly; the front works great as-is. It would probably be awesome with some SuMo tires!
It's vastly less comfortable than expected. I don't know how those chopper guys ride like that.
In case it wasn't clear, the frame is the gas tank ... like a Buell, another visionary.