Tillitson Travel Coach
By Paul Lacitinola
Spotlight | We had the pleasure of meeting up with Greg Tillitson at the Sacramento Auto Show in October, 2018. Greg's grandfather, Montgomery Frank Tillitson, owned and manufactured Tillitson Travel Coach in Florida from 1938 -1940. Greg shared his family photos of the Tillitson Travel Coach Company. Greg was unsure what happened to the business but knows his grandfather, "Monty" moved to Long Beach, CA in 1942 and started another business called "Tillitson Music Co." which owned and maintained jukeboxes located in bars and restaurants.
• Related: Vintage Camper Trailers Magazine
Greg mentioned that he has never seen any pictures of the interiors of the Tillitson Travel Coach. We reached out to Toni and Chuck Milltenberger, vintage trailer historians and fellow trailerites, and they were able to send some articles mentioning the Tillitson Travel Coach.
The March 1939 Automobiles and Trailer Travel Magazine featured an article on the T.C.T. (Tin Can Tourists of the World) gathering in Tampa, FL. In the article, there is a picture with the caption, "W.F. Tillitson smiles with satisfaction at the reception given his coaches at Tampa."
The following year the April 1940 issue of Automobiles and Trailer Travel Magazine again featured an article on the T.C.T gathering in February of 1940. They reported 1,984 coaches participated in the annual event and mentioned that two new Tillitson Travel Coaches were on display along with Anderson Coach, Travelo, Platt, Schult, New Moon, Badgers, Trotwood, Kozy Coach, Silver Domes and several other manufactures.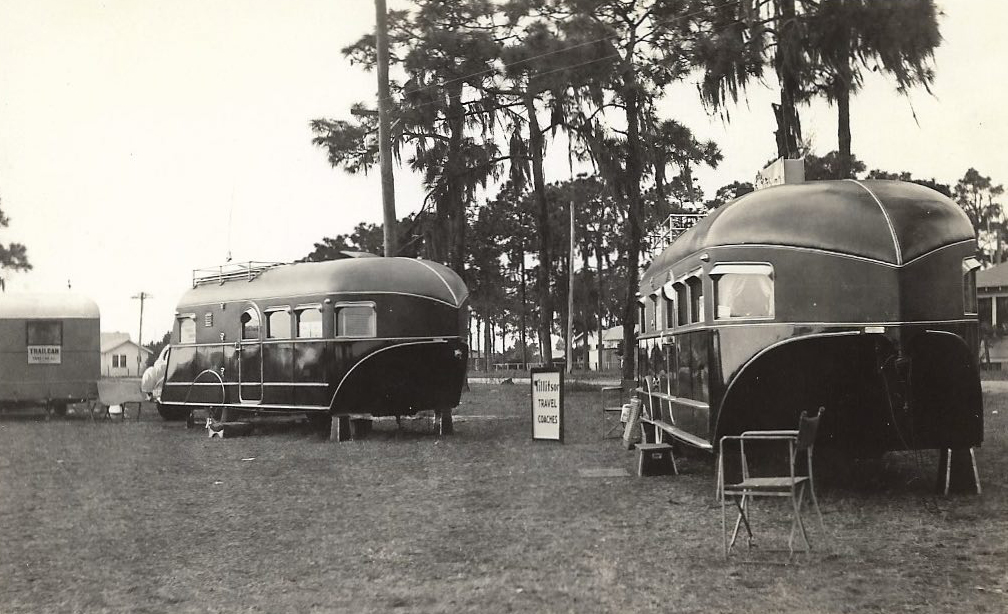 Sharing our vintage trailers with the public at shows and rallies is exciting and often elicits stories of people's pasts. Greg's connection to the hobby was one of those moments that makes the hours we spend at events worth it. If any of you can help Greg out with interior pictures or any more information on the Tillitson Travel Coach, we would like to be able to give him a bit more insight into his family's business.
Visit vintagecampertrailers.com and search for "Tillitson" to see all of the documentation we found on the custom built Tillitson trailers.
Ed note: Paul Lacitinola is the editor and publisher of Vintage Camper Trailers Magazine and an authority on this fascinating subject. In addition to being a fine journalist he leads workshops on the restoration of vintage trailers and organizes trailer roundups across the West. We are very excited to partner with Vintage Camper Trailer to be able to bring our readers articles on the history of travel trailers and the trailer lifestyle of days past. The vintage trailer hobby is a fun, family friendly pastime with a rich history and I encourage you to take the time to check out Vintage Camper Trailers Magazine and see what is going on. Tune in soon for another fine article from Paul.